Gosnay's SaverShims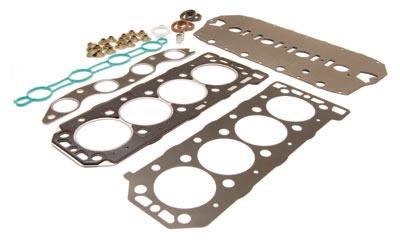 Each SaverShim is a stainless steel shim- not a gasket - which helps to restore an engine's valve train geometry, valve to piston clearance, compression ratio and cam timing back to factory specifications ... where the cylinder surfaces have been machined beyond the engine manufacturer's specification.

This enables otherwise 'condemned' cylinder heads which previously could not be re-used after machining due to the small (even zero in some cases) machining allowances quoted by engine manufacturers, to now be re-used rather than scrapped.

Now also available for diesel engines, SaverShims also end the expensive task of resetting valve heights & depths after machining the head face of such increasingly popular engines.

Although our range is already comprehensive, we are constantly adding new applications. If your requirement is not listed, visit our web site or 'phone for latest details. Gosnay's offers a 'one off' service even for one that is not currently in their range - usually within 14 days.

Is there a SaverShim for your Engine?
> Download a list of Gosnay's SaverShims (Required Adobe Acrobat reader)
Fitting Instructions

Before beginning the installation, the SaverShim should be matched to the cylinder head gasket and checked visually.

1. Prepare the mating surfaces: these must be flat, clean and dry with no scratches or marks.
2. Apply a liquid or spray sealant to the block or head (depending upon the application*) to seal the SaverShim. Gosnay's Engineering recommend and supply Wellseal.
3. Install the SaverShim on to the cylinder head or block*. Check all oil and water passages plus bolt holes for alignment.
[*NOTE: On Rover K & Peugeot XUD series engines, SaverShims must be fitted to the cylinder head NOT the block.]
4. Place head gasket on top of SaverShim (*EXCEPT Rover K and Peugeot XUD series engines where the head gasket must be fitted to the cylinder block in the usual way).
5. Fit cylinder head to block
NOTE: On cylinder heads with stretch type bolts, new ones should be fitted. (We will be pleased to supply these.)
6. Tighten the cylinder head bolts in the sequence and to the torque setting prescribed by the manufacturer.